Hello! Welcome to Solid Rock!
Located in Mt. Dora, Florida, Solid Rock Worship Center is a cross-denominational church, focused on impacting the world for Christ in our generation! We're a Bible-Based church, with a passion for world missions, exploring God's Word and applying it's unchanging truth to our lives everyday. We're community oriented and strive to create a caring atmosphere that exemplifies the love of Christ.
It's our hope that everyone who attends our services will encounter the life changing, love and grace found in Jesus Christ, while getting the opportunity to build relationships that will strengthen your life, faith and family! We encourage you to open your heart to the thoughts and plans that God has for your life ... Thank you for visiting us!
Weekly Service Times
Sunday Morning Worship Service: 10:15 am
Children's Church / Sunday School: 9:30 am
Men's Meetings: Check Calendar for Dates
Womens Meetings: Visit Women's Ministry
---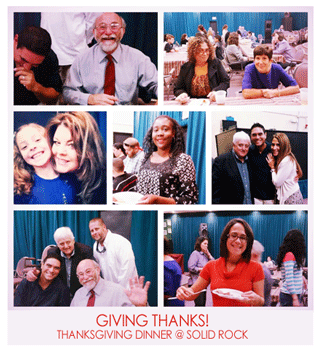 Thanksgiving is always a special time at Solid Rock! Last Sunday we had our annual Thanksgiving Dinner together~ lots of turkey, pie and smiles.

Coming up on Friday, December 18th at 7:00 pm, Solid Rock Christian School will host a Christmas Pageant at the Community Building in downtown Mt. Dora. Everyone is Welcome!

Visit our Facebook Page to see more pics and catch up with what we're doing!